One of the things MontCo Music takes pride in is providing steady work for passionate, local musicians. Our faculty is young, tech-savvy, versatile, and made up of professional musicians who all have degrees in music. Please meet our talented staff:
James Sauppe (founder) – Drums, Beginner/Intermediate Piano, Production
 James Sauppe
James Sauppe earned a BM in Music Performance (Drums) in 2009 from The University of the Arts in Philly and a Master's in Music Technology (Game Audio) from SUU in 2023. He currently teaches Music Technology classes and directs the Hip Hop Ensemble at the Community College of Philadelphia as a member of its budding Sound Recording and Music Technology program. A voting member of the Philadelphia Chapter of the Recording Academy since 2019, James writes and produces original music under the moniker, RVLVR, and has released albums on reputable record labels such as Noremixes and Seclusiasis, amongst many others. You can check out his original music/productions on iTunes/Apple Music.
Joe Baldacci – Drums, Bass, Guitar, Piano, Production
 Joe Baldacci
With over a decade of experience teaching music to students of all ages and backgrounds, Joe Baldacci is truly a Jack-of-all-Trades musician. Joe earned a BM in Music Performance from UArts in 2008 on Drum Set, and since has had a very eclectic career as a performer and educator. You can currently catch Joe playing drums around Philly with his group, Muscle Tough, as well as with many other of Philly's favorite musicians.
Todd Erk- Upright/Electric Bass, Guitar, Production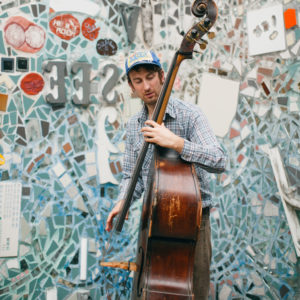 Todd Erk
Todd has been touring and recording internationally with a wide array of artists for well over a decade. He earned a BM in Jazz Performance (Upright Bass) from The University of the Arts in 2005 and has since been a road warrior, as they call it, consistently performing across the country and world. He currently performs with indie band- Clap Your Hands Say Yeah, Philly songstress- Birdie Busch, folk rockers- Hoots and Hellmouth, and recently joined Turkish band, ZRNA, with members from West Philadelphia Orchestra. His ethos, to provide the tools for one to artfully express themselves, transcending beyond music and into everyday life.
Tim Schilling – Beginner to Advanced Guitar & Bass
Tim Schilling
A graduate of the University of the Arts, Tim Schilling has been making a name for himself by performing in a variety of genres and venues throughout the country. From recording studios and radio stations in Nashville, TN to musical theater Productions at Philly's famed Walnut Street theater, Tim's eclectic talents can be traced around the nation. In 2015, he embarked on a US tour with Matt McAndrew (of NBC's The Voice season 7) as a direct support act for the Plain White T's on their Guantanamo and Beyond tour. Tim has also collaborated with renowned artists such as Katie Hargrove, Dana Sorey, and Grammy-nominated local favorite, Ben O'Neill, and continues to perform and teach regularly in the Philadelphia area.
Jaron Olevsky – Intermediate/Advanced Piano
Jaron Olevsky
The son of a piano teacher, Jaron Olevsky began studying classical piano with his mother at age 7. It wasn't long before jazz became a focal point, and in 2005 Jaron earned a degree from the University of the Arts in Philadelphia. During his time at UArts, Jaron began playing bass with singer/songwriter Amos Lee, and has continued recording and touring with him, now in the role of musical director and keyboard player. Aside from that gig, Jaron has worked locally in many capacities- as a keyboard and bass player for live gigs and recording sessions, but also as a producer/arranger, and private teacher. When teaching, Jaron likes to build a curriculum largely based off of the students' particular musical interests and influences, mining studies of harmony, technique, rhythm, and ear training from the music they bring to the table. As the old Ragu slogan says, "It's in there!"
Ben O'Neill – Intermediate/Advanced Guitar
Ben O'Neill
Grammy-nominated artist, Ben O'Neill is the touring guitarist for John Legend and a member of the guitar faculty at The University of the Arts. He has released numerous solo and collaborative recordings ranging from his singer/songwriter project, his jazz/soul organ trio The Mini Qs, his long running partnership with electronic producer RVLVR and most recently Ungoverned Transformation, an experimental, instrumental and visual collaboration with film company Oh Yeah Cool.
Ben has performed in 35 countries and made dozens of television appearances with John Legend, Jill Scott, Common and many more. In the early 2000's he was part of the genre-changing gospel group Tye Tribbett and GA and continues to record for gospel projects and perform in church.
O'Neill is also a dedicated educator, maintaining his teaching position at UArts since 2014 and working with private students to help them expand their vocabulary, increase their vision of the fretboard and broaden their understanding of music theory.
Wallis Schriver– Vocals, Beginner-Intermediate Guitar & Piano.
Wallis Schriver
Young Wallis Schriver attended The Center for Performing and Fine Arts throughout middle and high school where she trained in piano, vocals and theatre, studying vocals under under many renowned vocal coaches, including world famous opera singer, Paul Spencer Adkins. Wallis is the Alto Section leader of Abington High School's Select Choir and a member of the Pennsylvania Girls Choir. She writes and produces original music under the moniker WALLIS. Her songs have been streamed millions of times and her single "Lonely Christmas" debuted in the Top 30 on the AC Billboard Chart in 2021. A student of Montco Music, herself, Wallis is ready to share her passion and knowledge of music to youngsters! 
Zach Goldstein – Studio Production & Engineering, Electronic Music
 Zach Goldstein 
Zach Goldstein has been working as a recording engineer/producer for over 10 years, although his musical experience extends far beyond that. At the age of 10, he joined the world renowned Philadelphia Boys Choir, taking him to perform in Australia and South Africa, as well as all over the east coast. After studying composition at University of Pittsburgh and guitar at University of the Arts, Zach joined the team at Kawari Sound Recording Studio in 2007, became a full time engineer in 2012, and took over as studio manager in 2015. He has worked with a wide range of local and national artists including The Districts, War on Drugs, The Lawsuits, Cheap Dinosaurs, Lithuania and many others.